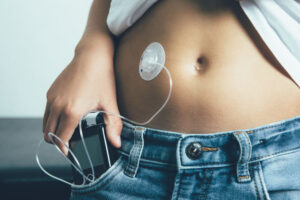 Medtronic has implemented a nationwide recall on its MiniMed™ 600 series insulin pumps with clear retainer rings after reports of incorrect insulin dosing. The U.S. Food and Drug Administration (FDA) classified this as a Class I recall, the most serious type of recall, as the insulin pumps may cause serious injury or death to those who rely on them to manage their diabetes.
The Medtronic recall impacts two insulin pump models in the MiniMed™ 600 series:
Model 630G

Distributed between September 2016 and February 2020

Model 670G

Distributed between May 2015 and December 2020
This Class I recall impacts a total of 463,464 devices in the United States.
About the Nationwide Medtronic Recall
The key issue is the clear retainer ring, which is designed to help lock the insulin cartridge into place in both the MiniMed™ 630G and 670G. When a retainer ring is not properly locked into place, the device may administer too much or too little insulin to the user. Thus, serious and fatal injuries may result due to:
Hypoglycemia (low blood sugar) — The insulin pump may administer a rapid and large dose of insulin if the retainer ring is broken or detached and, while the infusion set is connected to the body, the user reinserts the reservoir into the pump.
Hyperglycemia (high blood sugar) — The insulin pump may under-deliver insulin if the retainer ring fails to lock the reservoir into place or allows water to enter the insulin pump. This may also contribute to diabetic ketoacidosis, a complication of diabetes in which the body produces a high level of ketones (blood acids).
Serious injuries and deaths relating to the use of MiniMed™ 600 series insulin pumps have been reported. However, the FDA maintains that "those adverse events may not have been directly related to the damaged clear retainer rings that are the basis for this recall."
Medtronic will replace any MiniMed™ 600 series insulin pump that has a clear retainer ring with one that has the new black retainer ring — and at no cost. The clear retainer ring does not need to be damaged or under warranty for consumers to qualify for a free replacement. For further inquiries about the recall, reach out to Medtronic's 24-hour tech support line at 1-877-585-0166.
If you or a loved one has been impacted by the Medtronic recall, you may qualify to file a civil lawsuit for compensation. The acclaimed defective medical device attorneys at Houssiere Durant & Houssiere, LLP can guide you through the legal process, working to ensure that your compensation is maximized. From our office in Houston, Texas, we accept cases throughout the nation. Call (800) 914-2894 today for a free consultation.