"In my legal practice I have endeavored to advance the cause of justice and human welfare for those who cannot help themselves and are damaged in person and property, by improper use of science; who must therefore seek redress at law."

-Charles R. Houssiere III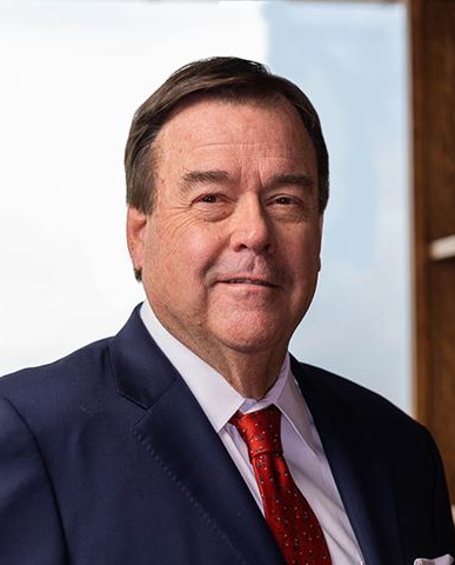 Charles R. Houssiere III
Senior Partner
Charles "Chip" Houssiere, licensed to practice law in both Texas and Colorado, has multifaceted interests and hands-on experience in science and law. During his legal career, he has successfully handled a multitude of scientific law cases including product liability, health care, aviation, and environmental litigation.
Chip is Board Certified in Personal Injury Trial Law by the Texas Board of Legal Specialization, Board Eligible in Civil Trial Law by the Texas Board of Civil Specialization, and Civil Trial Advocacy by the National Board of Trial Advocacy. In addition to his legal practice, he is a private airplane pilot and an active member of national engineering societies and chemical societies as well as state and national legal organizations.
Born in Houston, Chip grew up in a small agrarian Louisianan town called Jennings. His interest in science and the space program started early when he made an exhibit on the physics of oil well drilling for his 5th grade science fair. In the 7th grade, he attended a program at the University of Texas at Austin for advanced study in science and mathematics. He remained in Austin, furthering his studies, and graduated from the University of Texas with a degree in math, physics, and chemistry.
While attending school, Chip developed a love for flying. He obtained his private pilot's license with the Longhorn Flying Club and later received high-performance training in Houston from M. Aak Aviation, which was owned by a pilot who trained with Amelia Earhart. During the summer months, Chip worked in Rocky Mountain and Yosemite National Parks as a backcountry ranger where he developed respect for our environment.
Following graduation, Chip worked for the NASA manned spacecraft program, collaborating with astronauts in Apollo, Skylab, and Soviet Soyuz, which developed the docking system used today on the space station. Among many notable achievements was the cardiovascular research study of the effects of weightlessness on the cardiovascular system. The body negative pressure device his team made for and used during their Skylab study ultimately led to the pulse oximeter—a device used in most hospitals today that became central to treating patients with COVID-19.
While at NASA, Chip asked for permission to continue working on Skylab while attending night school to earn his law degree. As he was anxious to develop his courtroom skills while still in law school, he became a civil court bailiff, preparing briefs and analyzing motions for the court's approval while simultaneously serving as a certified deputy sheriff with civil court bailiff duties.
Chip's impressive history has all led to him becoming the excellent litigator he is today. His scientific and aviation knowledge frequently allow him to bring new perspectives to some of our firm's most complex cases. His love for the environment spurred Houssiere Durant & Houssiere, LLP to support toxic tort litigation and environmental efforts including the reforestation of Independence Pass near Aspen, Colorado. With his passion for learning, Chip is always ready to take on a new challenge. His passion for helping others has brought him to a field where his wide-ranging experience can have a real impact on individuals' lives.
Admitted to Practice:
United States Supreme Court
United States Court of Appeals – Fifth Circuit
United States District Court – Northern District of Texas
United States District Court – Southern District of Texas
United States District Court – Western District of Texas
All Texas and Colorado State Courts
Board Certified Personal Injury Trial Law – Texas Board of Specialization
Diplomat of Civil Trial Advocacy – National Board of Trial Advocacy
Board Eligible Civil Trial Law – Texas Board of Civil Specialization
B.S., The University of Texas at Austin
J.D., South Texas College of Law
Activities and Affiliations:
Lead Attorney, Breast Implant Litigation MDL
American Trial Lawyers Breast Implant Litigation Group, Founder
Lead Attorney, Cruise Control Fire Litigation
Lead Attorney, Steering Committee – NexGen Zimmer Litigation Group
Lead Attorney, Prem Pro Litigation Group
PFOS AFFF Science Committee
Paragard Litigation Group Science Committee
American Society of Law and Medicine, Diplomat
National Health Lawyers Association
Houston Medical Legal Society
American College of Legal Medicine
American Chemical Society
Society of Automobile Engineers
Society of American Chemical Engineering
State Bar of Texas
State Bar of Colorado
American Bar Association
Texas Bar Foundation
National Board of Trial Advocacy
The Houston Bar Association
Texas Trial Lawyers Association, Director and Fellowship Member (1988-present)
Houston Trial Lawyers Association, Vice President (1991-99) and Director (1984-91)
American Association for Justice for the State of Texas, Past Governor (1994-95)
500 Limited Club for families of disabled police officers, Founder and Past President
Attorneys Information Exchange Group
Who's Who In American Law
Multi-Millionaire Verdict Club
Phi Alpha Delta, Vice President (past)
Anti-Defamation League
Publications & Presentations:
Analysis of the Sport Utility Vehicle Rollover Case, 2000
Mass Tort Litigation . . . A Plaintiff's Perspective, 2000
Hospital, Doctor Aid Subrogated Insurance Claims, Seminar, 1995
Advanced Discovery in Medical Malpractice, St. Mary's University and Texas Tech University Medical Malpractice Conference, 1991
Jury Selection, Opening Statement and Final Argument, ACLM Mid-Winter Convention, 1990
Statutes Governing Texas Medical Malpractice, TTLA Medical Malpractice Seminar, 1990
Malpractice and Legal Ethics, St. Mary's University and Texas Tech University Medical Malpractice Conference, 1990
Threshold Issues: Evaluating Liability, State Bar of Texas Advance Settlement Techniques, 1990
Causation: Legal and Factual, Seminar, 1988
Liability of Hospital Technicians, Seminar, 1987
Preparing the Medical Malpractice Case, TTLA Nuts & Bolts Seminar, 1986
Jury Argument: A Lawyer's Last Chance