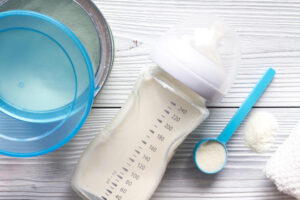 The link between cow's milk-based baby formula and a life-threatening gastrointestinal disease called necrotizing enterocolitis (NEC) has been long known and supported by science. But the manufacturers behind these products have, for decades, failed to warn consumers (from parents to medical professionals) of this link. This has endangered infants across the nation, particularly those in Neonatal Intensive Care Units (NICUs) where Similac, Enfamil, and similar products are often used.
About Necrotizing Enterocolitis
Necrotizing enterocolitis is a condition in which bacteria invades the intestines, causing inflammation. This, in turn, may cause a crack or gap to develop in the intestinal wall, allowing bacteria to travel into the abdomen. Serious infections and even death may result.
A rare condition, NEC affects about one in every 2,000 to 4,000 births. It is, however, very common among premature babies, particularly those with a birth weight less than 3.25 lbs. In most cases, these babies develop symptoms in the first two weeks after birth:
Swollen or bloated belly
Difficulty breathing
Low heart rate
Bloody stool
Lethargy
Many babies with NEC may also have trouble digesting their feedings. Further, they may develop green fluid in the stomach.
Which Baby Formula Brands Are Toxic?
Similac and Enfamil are among the most commonly used cow's milk-based baby formulas found to be toxic. Numerous lawsuits have already been filed against their manufacturers—Abbott Laboratories and Mead Johnson & Company, LLC, respectively—as a result.
The fact is, studies dating back to 1983 have supported the link between cow's milk-based baby formulas and NEC. These manufacturers should have known of the risk, and they should have warned consumers about it.
If your child has been diagnosed with NEC and ingested Similac or Enfamil—or another cow's milk-based baby product—our national attorney team at Houssiere Durant & Houssiere, LLP will fight for your rights. You could be entitled to full compensation for your damages. Call our Houston firm at (800) 914-2894 or contact us online to get your free consultation.