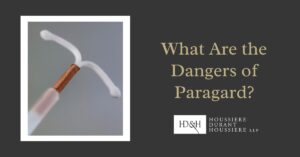 There are several forms of birth control out there, and it's crucial to know which one is right for you. One of the birth control options on the market is the Paragard intrauterine device. It is an IUD that helps to prevent pregnancy for about a decade. However, there are also potential dangers and side effects associated with these devices.
Over the years, people have come forward detailing how the Paragard IUD has caused them to suffer severe harm. Still, women continue to use the device because it has proven to be an effective method of preventing pregnancy. Our team is here to explain the risks associated with Paragard use.
Side Effects Associated with Paragard
When someone has the Paragard IUD, they risk encountering side effects. Some of them are mild, while others are more severe. These side effects can have a significant impact on a woman's life. Here are some of the symptoms of varying levels that you might encounter.
Mild side effects associated with Paragard include:
Reduced levels of red blood cells, often referred to as anemia in the medical field
Pain in the woman's back
Painful cramps, periods, or sex
Vagina swelling or infections
These are just a few of the mild side effects that you may experience. In some situations, you can feel the more severe effects associated with Paragard IUD.
Severe side effects associated with the Paragard IUD include the following:
Sepsis can occur if the IUD leads to an infection. If a woman has sepsis, they may experience fever, chills, shivering, breathing problems, confusion, and breathing issues.
Along the lines of infections, a woman may have actinomycosis, which is when the infection spreads from the vagina to other parts of the body, including in the belly and pelvis region.
Perforation can arise, which means that the IUD has poked through the uterine wall and causes bleeding, stomach pain, and more. Expulsion can also arise, which means the IUD has fallen out of the uterus either partially or completely.
It's crucial to take action if the Paragard IUD has caused you harm. Working with a reputable law firm can help you determine what legal options you have, how to pursue compensation, and your right to hold negligent parties accountable for creating a defective product.
The Aftermath of a Paragard Problem
When women discover the problems associated with the Paragard IUD, they often try to have the device removed. Unfortunately, this is often the time when claims say the IUD breaks and causes severe injuries. Many women require surgery following device breakage. And the potential lawsuit states the manufacturer of Paragard does not warn of the dangers associated with the device.
Houssiere Durant & Houssiere, LLP knows that there are several issues that can arise because of defective medical devices like the Paragard IUD. Over the years, we have helped countless individuals as they hold manufacturers accountable for their oversights. We make it a point to help you if you deal with the symptoms associated with Paragard failure.
Our Houston defective medical device attorneys work with you to help you understand your rights. We work hard to build the right cases when it matters most. If you need legal help, you can speak with our team about your options. We will explain everything to you and help determine if you have a case. Trust that we will be there for you every step of the way. Let us help you whenever you suffer harm.