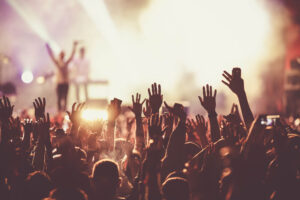 The first night of Astroworld Festival turned tragic after a deadly crowd surge rushed toward the stage during the set of the festival organizer, headliner, and Houston-based rapper Travis Scott. At least 8 concertgoers have been confirmed dead and hundreds injured due to the chaos, as reported by numerous media outlets.
The youngest concertgoer to lose their life was a 14-year-old boy; the youngest to be injured was even younger, at just 10 years old.
Now, Scott and other event organizers have been hit with a wave of lawsuits over the preventable tragedy.
What Is a Crowd Surge?
A crowd surge is when a large body of people rushes toward the stage, creating a force so strong that those caught in it can suffer serious and fatal injuries. Concertgoers told The New York Times that the crowd surge at Astroworld was "so intense that it left no room to move."
One concertgoer is quoted by The Times as saying, "You can literally jump in the air and you're there in the air — it's like if your hands are up, your hands are staying up."
What Caused the Chaos at Astroworld?
Law enforcement officials are still working to uncover the direct cause of the deadly crowd surge. Some speculate that the answer may lie in a lack of security, poor crowd control, and/or Scott's history of encouraging disorderly conduct and violence at his shows.
Houston mayor Sylvester Turner asserted that a lack of security could not be the problem, however. He claimed that there was "more security over [at Astroworld] than we had at the World Series games."
At a news conference, officials said the event was staffed with 505 event security staffers, 91 private security officers, and 76 Houston Police Department officers.
The Show Went On, But Did It Have to?
Regardless of how many security officers were present, no one in charge took action to stop the event, even after it was declared a "mass-casualty incident."
Houston police chief Troy Finner told The Times that they were concerned the crowd surge would escalate into a riot if the show was stopped.
"You cannot just close when you got 50,000 and over 50,000 individuals," Finner explained. "We have to worry about rioting, riots, when you have a group that's that young."
Travis Scott continued to play out his set for almost 40 minutes. Thus while Live Nation stopped the concert about half an hour early, it was already over half an hour too late.
Concertgoers posted distressing video footage on social media of the tragedy unfolding in real time: Medical staff can be seen administering CPR to those passed out in the crowd. Some concertgoers can be seen taking initiative, pleading for help. Sadly, however, they were only ignored by camera operators, event organizers, and even their fellow concertgoers.
One video showed concertgoers dancing on top of an ambulance that was attempting to make its way through the crowd.
According to The Times, a now-removed video uploaded on YouTube showed Scott telling the crowd: "I want to see some rages. Who want to rage?" He then saw the ambulance, saying, "There's an ambulance in the crowd, whoa, whoa, whoa," in an apparent attempt to calm the crowd down.
But the music only stopped for a few seconds; Scott chose to continue his set.
As one of Houston's premier personal injury law firms, our attorney team at Houssiere Durant & Houssiere, LLP was deeply saddened to hear of the loss of life and injuries at Astroworld. We would like to send our deepest condolences to those who lost their loved ones in the crowd surge. We also wish a speedy recovery to those injured.
The Investigation Continues
The FBI announced that it will be providing "some forms of technical assistance" to the HPD in the Astroworld investigation, as reported by ABC News.
Houssiere Durant & Houssiere, LLP is also joining in the effort to uncover what led to the deadly crowd surge. Those directly affected deserve answers, and we are determined to get them. We are doing everything we can to prevent a tragedy like Astroworld from happening again. To get in touch with our Houston firm, call (800) 914-2894 or send us a message online.